A wire wound conductor provides a low level of resistance in the cable, which is ideal for use with high performance engines, or engines that run on LPG/CNG. The core is commonly referred to as wire-wound, reactive core, Magwire, magnetic suppression or inductive wire. Madison Wire wire-wound cables can be cut, stripped and terminated in the same way as a standard suppressed cable.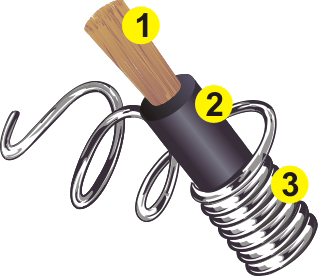 Synthetic string made of glass fiber and poliamid, sustains the ferrite core.
Ferromagnetic compound absorbing interferences all along the cable. Its anti-interference system 2+3 ensures greater ignition current and longer spark duration
Corrosion resistant electric conductor spirally Sound around the ferromagnetic core, ensures the conduction of high voltage ignition current and simultaneous absorption of magnetic energy by the ferrite core inside the cable.
Specifications:
Madison Wire offers a high-quality KEVLAR® suppression conductor, wound with a high-strength spiral steel wire (stainless steel wire optional) for a finished resistance as low as 350 Ohms per foot (1.15k Ohms /meter).
The most popular resistant levels are:
1.15 k Ohm / meter
2.8 k Ohm / meter
5.6 k Ohm / meter